John Doubleday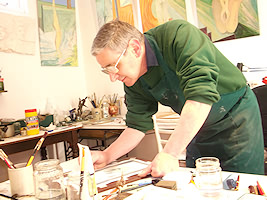 John Doubleday was born in 1947 and studied sculpture at Goldsmiths College. Since his first show at the Waterhouse gallery in London in 1968 he has enjoyed more than 30 one man exhibitions in Britain, America and the Continent.
John Doubleday's work can be divided into two distinct categories: commissioned work and the paintings and sculpture produced for exhibition. Of the two categories it is the exhibition work which is the obviously more personal. Marina Vaisey of the Sunday Times wrote: "His isolated figures have a logic of their own, which we as spectators can readily accept. By making his world he enhances our own… Though the objects are made of physical elements of the human figure, often distorted, his work also appeals on a sensual plane, and to the irrational quality of our submerged dreams."
His enthusiasm is touching and the fertility of his object making is disarming. The various aspects of the direct and indirect appeal of his work, physical, emotional and intelligent make what he has accomplished of lasting value. Unafraid to experiment, John illustrates an interest of the figure with the landscape. Sometimes one is able to see ghost like figures walking through the landscape, suggesting both are inextricably linked.
John lives and works in Great Totham in Essex. His interests include raising Essex Saddleback pigs.